Thursday, 5. February 2009
Vielleicht zurück
Zumindest für ein paar Tage :)
... link
Monday, 10. September 2007

No translation possible…
He-Man der Saarlänna
Zurück zu meinen Wurzeln ins good old Saarland – ei gudd!
... link
Saturday, 16. June 2007

About me
Hi, I'm Jasmin and I love illustrations. Most time of my days I spend illustrating girls and stuff they like. I work as a freelance illustrator in Berlin/ Germany.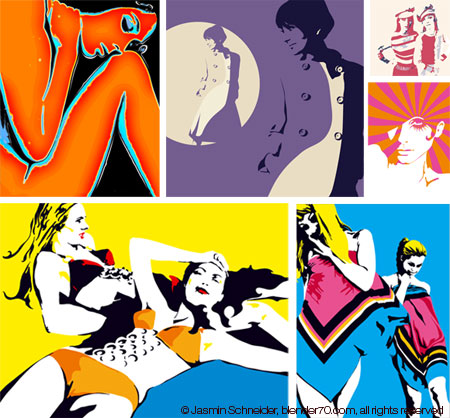 Some of them I paint Acrylic on Canvas. This is one of my favourite, it is called "Schöne Schurken (Nice Guys)" and it is hung up in our flat next to the dinette.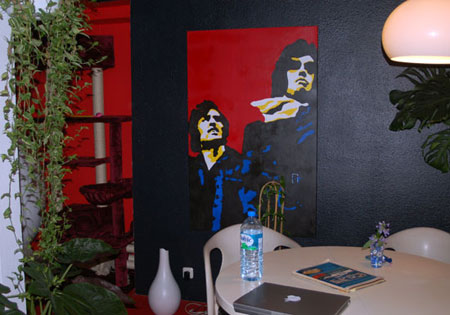 Title: Schöne Schurken; 90 x 140 cm
Some may say my stuff is kind of retro – well I love the 60s – but I have to admit, I don't like the common retro wave. It is too mainstream for me and I don't intend to copy stuff, I just want to create fresh nice things. Anyway I'm addicted to colour and form, think this is the common ground I share with designers of the 60s and that's the way I like it!
Further on I love cats and I have 3 of them: Gustav (white Persian), Luder (black ESH) and Marotzke, called Rosi, a silver-shaded BSH tom-cat.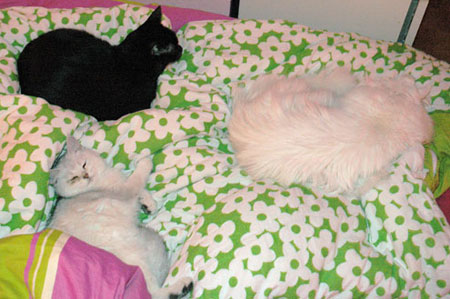 They devil me sometimes, okay, but I really like them to be so cool and easy, so beautiful and perfect – they are my inspiration – love it!
... link